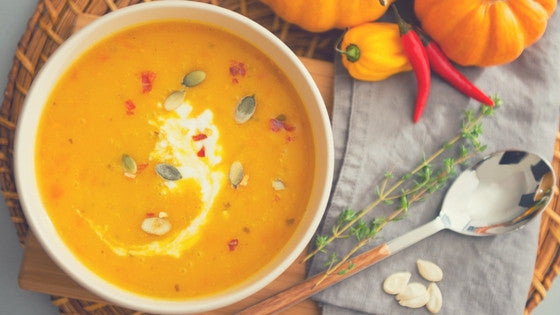 We don't get much in the way of fall where I hang my own board, which is okay because it means we also don't get much in the way of winter. But I still envy the cozy vibe that crisp days and chilly nights bring in other places.
So I make soup. No, I don't have a fire to curl up with while I sip it, but the comfort of a steaming bowl on what passes for a chilly evening in these parts is a rite of seasonal passage that, for me anyway, offers a taste of a different place and another time when we all lived a little closer to the bone.
This one is my favorite because it uses the healthy king of the autumn harvest and fills me up in every way.
Magical Autumn Pumpkin Soup
Ingredients
1 fresh pie pumpkin (5-6 lbs.). These are the small deep-orange pumpkins that generally fit in two hands held together. Two 15 oz. cans of canned pumpkin work, too, but fresh is always worth the effort!
4 oz. butter
Two sweet onions, chopped
1 T ground cinnamon
2 quarts of chicken stock
1/2 C maple syrup
1+ C of heavy cream or (for a lighter meal) yogurt
Preheat your oven to 350°. Grease a baking sheet. Cut the pumpkin in half around its "equator," scoop out the seeds, and place each half cut-side down on the baking sheet. Add a cup of water to the pan, and bake for 45-75 minutes until tender.
Cool the pumpkin and peel its skin. Melt the butter in a soup pot, add the onions, and cook over medium heat until soft. Add the pumpkin, cinnamon, and stock, and simmer for 30 minutes with an occasional stir.
Puree the results with a food processor or one of those boat-motor immersion blenders. Cook for another five minutes. Add the maple syrup and the cream (or yogurt) and heat through.
Serve with a garnish of roasted pumpkin seeds and a dollop of cream or yogurt, and suddenly it's fall no matter where you are.