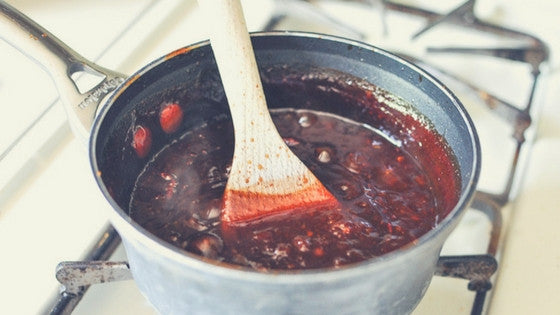 Anybody who knows me knows I firmly believe that coffee is as essential to life as we know it as air, water, and the latest Elena Ferrante novel. It's what my world calls a key ingredient. 
But why isn't coffee ever an actual ingredient? You know, as in something you cook with instead of just drink, happy though those occasions always are?
I was wondering about this out loud with a friend of mine who's sort of a chef and a bit of a foodie, and she set me straight—coffee can be used in the kitchen and not just in tiramisu either. She said it's got a distinctive earthy flavor that works well in both sweet and savory dishes, and can be a great accent for meats of all kinds.
Live and learn, right? And I after making the barbeque sauce recipe she gave me as proof, I see her point. It really gave the turkey burgers I grilled the other night a serious jolt. Here's the recipe:
Kohana Coffee BBQ Sauce
Ingredients
2 T. olive oil
1 3/4 cups onions, chopped
6 minced garlic cloves
1/2 cup dark brown sugar
2 T. chili powder
2 T. light molasses
2 T. chopped cilantro
1 t. ground cumin
28 oz. of canned crushed tomatoes
1 cup chicken broth
1 cup fresh Kohana coffee (the stronger the better!)
Heat oil on medium-high in a large heavy pan. Add onions and garlic, and sauté until onions are tender. Add brown sugar, chili powder, molasses, cilantro, and cumin, and stir until everything combines together into a paste. Add tomatoes and coffee, and bring to boil. Reduce to a simmer and cook (uncovered!) until the sauce starts to thicken. This takes about 1/2 an hour (stir frequently!). Voila!
This gave me about four cups, which is a lot. But it works with any meat—in the oven or on the grill. And it's the kind of more-is-better sauce you slather on by bucketload so freeze what you don't need and you'll have a quick way to wake up a boring meal.