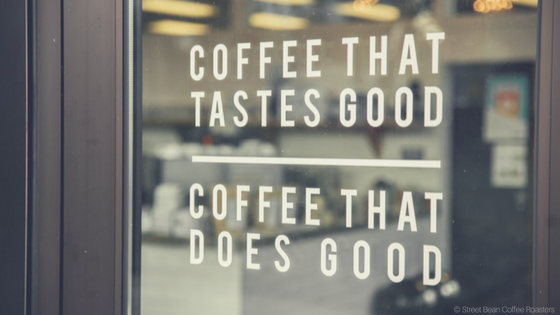 A good cup of coffee performs many essentials services for humanity. It's a perfect wake-up call and an ideal pick-me-up, a great excuse for a get-together, and the preferred way to kill time between appointments. But if you get yours at the right place in Seattle, it's doing a whole lot more.
Welcome to Street Bean, a coffee shop that not only serves a supremely satisfying latte but does it while helping homeless young people learn valuable job skills and make the money they need to finance a more promising future.
Opened in 2009, Street Bean is the brainchild of local non-profit agency New Horizons, which helps troubled teens and young adults move past the despairing burdens of poverty and find the stability they need to create a new life for themselves. Each Street Bean outlet is staffed by New Horizon clients who had no place else to turn, and every cup they pour serves up a solution to the problem of kids with no place to live.
In Seattle, that problem is fairly stark—some 800 young people between the ages of 12 and 26 spend their nights on the streets, where drugs and crime take a terrible toll on their physical and emotional health. Since 1978, the staff of New Horizons has provided help of all kinds to these kids, but one key part of that puzzle was always missing: jobs that would sustain the resources they need to escape the clutches of homelessness once and for all.
In 2009, that dream came true thanks to a generous landlord, who offered the organization a retail space and three months of free rent to help get things started. After some discussion about what type of business would give homeless youth the best opportunities and have the greatest chance for success, the staff of New Horizons picked coffee, which in highly-caffeinated Seattle is like betting on rain.
Thus was Street Bean born, and with it, the homeless young people of Seattle got their first serious break. Today, Street Bean helps "street-involved" teens and young adults learn how to foster positive relationships, acquire marketable skills, rediscover their own self-worth, and reclaim the hope and promise that life on the street has taken from them. It's a program that's working—over 80% of all Street Bean apprentices have successfully made the transition to permanent housing and gainful employment.
From one location, Street Bean has grown into two, and they've even started their own roasting operation, which funds one hour of job training for every bag of fresh roast sold. That roast is top shelf, too because Street Bean believes in necessary things like high-quality beans and paying fair prices directly to coffee growers so they can enjoy the good life, too.
That's a cup of coffee that's doing more than just brightening our day. It's making the world in which we drink it a better place for all of us to live.